Introduction
Welcome to Horsham, Pennsylvania, a captivating town nestled in the picturesque Montgomery County. With its rich heritage, close-knit community, and a growing interest in cryptocurrency, it has become a hub for innovation. In this article, we'll delve into the fascinating aspects of Horsham, from its significant landmarks and local events to the seamless integration of Bitcoin through the convenience of Hippo Bitcoin ATMs. Whether you're a resident or a visitor, join us on this journey to discover the captivating spirit of Horsham.
Horsham, PA: A Township Steeped in History and Community
Rich Heritage and Landmarks
Horsham Township, located just a stone's throw away from bustling North Philadelphia, holds a proud place in Pennsylvania's history. Established in 1717, this charming township boasts a delightful blend of historical landmarks and natural beauty. Here are some notable highlights:
Horsham Meetinghouse: Experience the essence of the township's history at the Horsham Meetinghouse, a historic Quaker place of worship dating back to the early 18th century.
Graeme Park: Step into the past at Graeme Park, the ancestral home of Elizabeth Graeme Fergusson. This Georgian-style mansion offers a glimpse into the region's colonial history.
Community Spirit and Festivals
Horsham is known for its strong sense of family and community and a calendar brimming with exciting events and festivals. Join in the festivities and embrace the vibrant atmosphere:
Horsham Day: Celebrate the spirit of Horsham at Horsham Day, an annual community festival featuring live music, local vendors, delicious food, and fun activities for all ages.
Outdoor Activities and Walking Trails: Immerse yourself in the natural beauty of Horsham with its numerous walking trails, offering opportunities for hiking, jogging, and exploring picturesque landscapes.
Embracing Nature and Outdoor Activities
Horsham, Pennsylvania is not just a town rich in history and community spirit; it also offers an abundance of outdoor activities and natural beauty. From scenic parks to picturesque walking trails, residents and visitors can immerse themselves in the wonders of nature. Let's explore the outdoor wonders Horsham has to offer:
1. Horsham Parks: A Haven for Recreation
Horsham is home to several well-maintained parks that provide opportunities for relaxation, recreation, and outdoor gatherings. Here are some notable parks to explore:
Deep Meadow Park: This expansive park offers a wide range of amenities, including playgrounds, picnic areas, sports fields, and walking trails. It's the perfect place for families to enjoy a day out in nature.
Lukens Park: Nestled along Pennypack Creek, Lukens Park is a serene oasis where visitors can enjoy fishing, nature walks, and peaceful picnics amidst the tranquil surroundings.
2. Walking Trails: Explore the Beauty on Foot
For those seeking an active way to appreciate Horsham's natural beauty, the town features a network of walking trails that wind through parks, woodlands, and picturesque landscapes. Lace up your walking shoes and embark on a refreshing journey along these trails:
Horsham Powerline Trail: This trail follows the path of the powerlines and offers scenic views of the township. It's a popular choice for walkers, joggers, and nature enthusiasts.
Horsham Township Nature Preserve Trail: Located within the Horsham Township Nature Preserve, this trail takes you through diverse ecosystems, including meadows, wetlands, and forests. Keep an eye out for wildlife sightings along the way!
Horsham's Demographics and Quality of Life
Horsham, Pennsylvania is a vibrant town with a diverse population and a high quality of life. Let's delve into the towns' demographics, economy, and key factors that contribute to Horsham's thriving community:
1. Population and Diversity
Horsham is home to a diverse population that reflects the multicultural fabric of the region. With a population of 20,429 residents, the town embraces individuals from various ethnic backgrounds and cultures, fostering a rich tapestry of diversity.
2. Quality of Life Indicators
Horsham boasts several factors that contribute to its high quality of life, making it an attractive place to live and work. Some key indicators include:
Median Household Income: The median household income in Horsham is [median household income value], exceeding the national average. This indicates a strong economic foundation and opportunities for prosperity within the community.
Excellent Schools: Horsham takes pride in its exceptional educational institutions. The town is served by highly-rated public schools that provide students with a quality education and a nurturing environment for growth and development.
Low Crime Rate: Horsham maintains a low crime rate compared to national averages, ensuring a safe and secure environment for residents and visitors alike.
Access to Healthcare: The town offers access to quality healthcare facilities, including hospitals, clinics, and specialized medical services, ensuring the well-being of its residents.
Close Proximity to Philadelphia: Situated near North Philadelphia, Horsham offers the advantage of easy access to the amenities and cultural attractions of a major city while enjoying the peaceful charm of suburban living.
Horsham's favorable demographics and high quality of life make it an ideal place to call home. It attracts individuals and families seeking a thriving community that values diversity and provides ample opportunities for personal and professional growth.
Introducing Hippo Bitcoin ATM: Simplifying Bitcoin Access in Horsham
Buying Bitcoin Made Easy
With the rising popularity of cryptocurrency, accessing Bitcoin has become increasingly convenient for Horsham district residents and visitors. Thanks to Hippo Bitcoin ATM, purchasing Bitcoin has never been simpler. Here's why Hippo ATM stands out:
Convenient Locations: Hippo Bitcoin ATMs can be found at a strategic location in Horsham, providing easy access to Bitcoin for anyone interested in exploring the world of cryptocurrency.
User-Friendly Experience: Hippo ATMs offer a seamless and user-friendly experience, allowing individuals to purchase Bitcoin using cash or credit/debit cards. The intuitive interface guides users through the process, making it accessible even for newcomers.
Learn how to find and use the Hippo Bitcoin ATM in Horsham:


Sunoco – Gas Station – 300 Easton Rd, Horsham, PA 19044.
Location of Hippo Bitcoin ATM in Horsham
Discover the convenience of Hippo Bitcoin ATMs at the following location within Horsham Township:
Sunoco – Gas Station: Visit the Hippo Bitcoin ATM conveniently situated on Easton Road, providing easy access to residents and visitors alike. It is located at 300 Easton Rd, Horsham, PA 19044.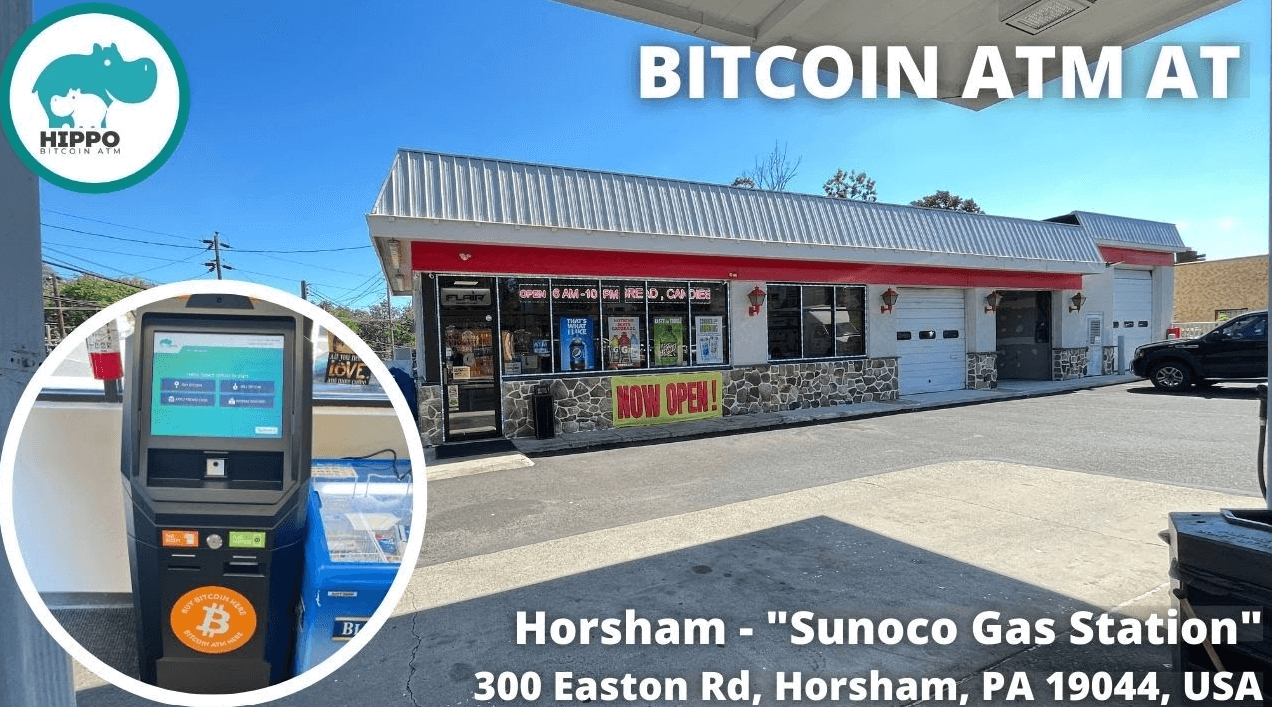 Conclusion
Horsham, Pennsylvania, offers a captivating blend of history, community, and a forward-thinking approach to innovation. It is epitomized by the accessibility of Bitcoin through Hippo Bitcoin ATMs. Whether you're exploring the town's landmarks, participating in local festivals, or embracing the world of cryptocurrency, Horsham welcomes you with open arms. Embrace the spirit of Horsham and unlock the future of finance with Hippo Bitcoin ATM.
Now, Horsham residents and visitors can seamlessly buy Bitcoin at strategic locations throughout the township, empowering individuals to explore the exciting possibilities of digital currency. Embrace the convenience, cost, and accessibility offered by Hippo Bitcoin ATM and embark on your cryptocurrency journey today.
Frequently Asked Questions (FAQ) about Hippo Bitcoin ATM
Q: Can I sell Bitcoin at a Hippo Bitcoin ATM?
A: Buying and selling of Bitcoin is available at the Horsham ATM site.
Q: Can I use my credit/debit card to buy Bitcoin at Hippo Bitcoin ATMs?
A: No. Hippo Bitcoin ATM only accepts cash to buy a Bitcoin.
Q: Is there a customer support helpline available for Hippo Bitcoin ATM users?
A: Yes, Hippo Bitcoin ATM provides customer support through their website and helpline, ensuring assistance and guidance for any queries or concerns. You can follow this link: https://hippoatm.com/contact-us/