Can you buy bitcoin in Royersford? Are there Bitcoin ATMs near me?
There is a Bitcoin ATM location in Royersford, Pennsylvania which allows customers to buy or sell bitcoin for cash.
Where can I buy Bitcoin instantly in Royersford near me?
There is a Bitcoin ATM in Royersford, PA, and it is located at:
SNK Fuels – Gas Station

Address: 550 N Lewis Rd, Royersford, PA 19468
Opening hours: 7 days a week, (8am – 10pm)

For driving directions, click here.
The Bitcoin ATM in Royersford is located at the "SNK Fuels" gas station. The bitcoin ATM is placed at the front of the store, on the right of the entrance, next to the traditional ATM.
How do I buy bitcoin in Royersford near me?
Buying Bitcoin through a Bitcoin ATM only takes a couple steps. 
Visit our Bitcoin ATM at SNK gas station at 550 N Lewis Rd, Royersford, PA 19468

Once you're at the machine select Buy Bitcoin

Select the range in which you attend to purchase the bitcoin 

Scan your wallet where you will receive the bitcoins

Put the cash in the machine 

Press Done and a receipt will print for you.


To watch this process step by step, check the video below.

 
How do I find nearby Bitcoin ATM locations?
To locate a Bitcoin ATM near Royersford, visit Hippo Kiosk's Bitcoin ATM map that shows all the operational Bitcoin ATMs near Middletown, Doylestown, Quakertown, Lansdale, Allentown, Bethlehem, Easton, and the entire PA. You can also search locations on Hippo Kiosk's website. 
What is the price of bitcoin? Do I need to buy a whole bitcoin?
The price of Bitcoin is always changing. The price at which the ATM is selling Bitcoin for at the time of the purchase will be displayed on the screen of the machine. However, Bitcoin ATMs do not require that you buy a whole Bitcoin. How much you buy is up to you. You can buy as little as $5 or much more than that. 
Is online registration necessary for using Bitcoin ATM?
No, there are no online registrations for Hippo ATM's, you just need a bitcoin wallet address and cash, in some cases the ATM may ask you for your phone number or it may prompt you to scan your ID, both of which you will do on the machine. There are no additional steps and no need for any online registration or account creation. 
Still have questions?
If you have any other questions about buying Bitcoin, have recommendations on where we should add locations, or anything else, we want to hear from you! 
Visit our website here.
Phone: 610-508-3009
Email: info@hippoatm.com
Click below to see other Bitcoin ATM locations near you
New Bitcoin ATM Locations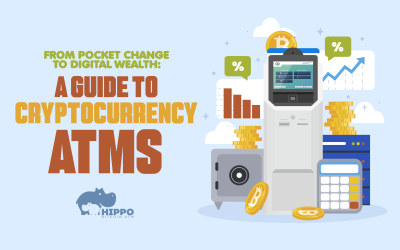 Understanding the Digital Gold Rush: The Rise of Cryptocurrency ATMs Not Just Another ATM at the...