As the world of cryptocurrency continues to grow, many people are starting to take notice of Bitcoin and other digital currencies. However, the process of buying Bitcoin can seem daunting to those who are new to the space. There are two main ways to purchase Bitcoin: through a Bitcoin ATM (BTM) or a crypto exchange. While both have their pros and cons, we believe that Bitcoin ATMs are the better option for a number of reasons.
Bitcoin ATM vs Crypto Exchange: How Do They Work?
Bitcoin ATMs and crypto exchanges are two ways to buy and sell Bitcoin, but they work in different ways.
A Bitcoin ATM is like a regular ATM that you might use to withdraw cash, but instead of cash, it allows you to buy and sell Bitcoin. You can find Bitcoin ATMs in public places like convenience stores or gas stations, and they let you buy Bitcoin using cash.
When you use a Bitcoin ATM, you don't need to register or sign up for an account as you do with a crypto exchange. Instead, you just need to have a Bitcoin wallet, which is like a digital wallet that you use to store your Bitcoin. You scan your wallet's QR code at the Bitcoin ATM, and then you can buy Bitcoin or you can sell Bitcoin for cash.
On the other hand, a crypto exchange is a website or app where you can buy and sell different cryptocurrencies, not just Bitcoin.
To use a crypto exchange, you need to register and create an account, which involves providing personal information and linking your bank account or credit card to the exchange so that you can fund your purchases. Once you've set up your account, you can then buy and sell cryptocurrencies like Bitcoin, Ethereum, or Litecoin.
The main difference between a Bitcoin ATM and a crypto exchange is the convenience and ease of use. Bitcoin ATMs are much simpler and quicker to use. Crypto exchanges can be more complex to use and can be intimidating for users who are not tech-savvy.
In summary, a Bitcoin ATM is like a vending machine that allows you to buy and sell Bitcoin using cash, while a crypto exchange is a website or app that lets you buy and sell cryptocurrencies like Bitcoin by connecting your bank account or credit card directly to the exchange. Both options have their pros and cons, and the best choice for you depends on your needs and preferences.
Self-Custody
Firstly, Bitcoin ATMs allow you to buy Bitcoin and keep them in your wallet, providing self-custody. This is a significant advantage over crypto exchanges, which don't let you keep your Bitcoin due to the centralized companies that manage the exchanges.
When you buy Bitcoin on a crypto exchange, you are essentially entrusting your cryptocurrency to a third party. This can be a risky proposition, as exchanges have closed doors in the past, resulting in significant losses for their users. By contrast, Bitcoin ATMs allow you to keep your Bitcoin in your own wallet, where you have full control over your cryptocurrency.
Time
Secondly, Bitcoin ATMs save you time. All you need is a crypto wallet with your QR code ready for scanning. Crypto exchanges, on the other hand, can be a hassle due to the long steps of registration that you need to go through just so you can buy crypto.
This can be frustrating and time-consuming, especially if you are new to the space and are not familiar with the process. With a Bitcoin ATM, you can simply walk up, scan your wallet QR code, and buy your Bitcoin quickly and easily.
Keep in mind that for larger purchases you may need to scan your ID or insert your phone number in order to buy bitcoins.
Simple User Experience
Finally, Bitcoin ATMs are really just vending machines for purchasing cryptocurrency simplified. There's no need to worry about crazy jargon, complicated options to buy or sell Bitcoin, or fancy tech knowledge. In contrast, a crypto exchange can make everything seem overwhelming, with hundreds of tokens to pick, multiple methods to purchase, and some prior knowledge needed to understand how to use the exchange.
Bitcoin ATMs make buying Bitcoin easy and straightforward, allowing anyone to get involved in the world of cryptocurrency without having to navigate complex exchanges.
Bottom Line
In conclusion, while both Bitcoin ATMs and crypto exchanges have their advantages and disadvantages, we believe that Bitcoin ATMs are the better option for those looking to buy Bitcoin.
With self-custody, time-saving convenience, and simplified access to the cryptocurrency world, Bitcoin ATMs provide a hassle-free and secure way to purchase Bitcoin. So, the next time you're looking to buy Bitcoin, consider using a Bitcoin ATM and experience the benefits for yourself.
Find a Hippo Bitcoin ATM Near You in PA
Are you in Pennsylvania and looking for a simple and secure way to buy Bitcoin? Look no further than Hippo Bitcoin ATM! With locations throughout the state, you can access our convenient ATMs all over the state and begin buying or selling Bitcoin in no time.
No convoluted registration process and no need for extra jargon – just use your Bitcoin wallet address and you are good to go. Plus, with our ATMs, you can feel safe knowing that your transactions are trustworthy and reliable.
So why wait? Head to one of our ATMs near you now and take advantage of this revolutionary technology today!
How do I find nearby Bitcoin ATM locations?
To locate a Bitcoin ATM near New Ringgold, visit Hippo Kiosk's Bitcoin ATM map that shows all the operational Bitcoin ATMs near Middletown, Scranton, Doylestown, Quakertown, Lansdale, Allentown, Bethlehem, Easton, and the entire PA. You can also search locations on Hippo Kiosk's website. 
What is the price of bitcoin? Do I need to buy a whole bitcoin?
The price of Bitcoin is always changing. The price at which the ATM is selling Bitcoin for at the time of the purchase will be displayed on the screen of the machine. However, Bitcoin ATMs do not require that you buy a whole Bitcoin. How much you buy is up to you. You can buy as little as $5 or much more than that. 
Is online registration necessary for using Bitcoin ATM?
No, there are no online registrations for Hippo ATM's, you just need a bitcoin wallet address and cash, in some cases the ATM may ask you for your phone number or it may prompt you to scan your ID, both of which you will do on the machine. There are no additional steps and no need for any online registration or account creation. 
Still have questions?
If you have any other questions about buying Bitcoin, have recommendations on where we should add locations, or anything else, we want to hear from you! 
Visit our website here.
Phone: 610-508-3009
Email: info@hippoatm.com
New Bitcoin ATM Locations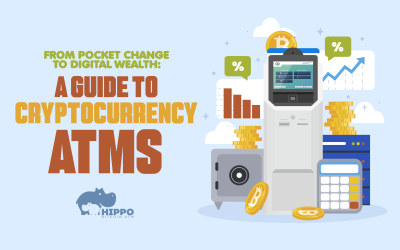 Understanding the Digital Gold Rush: The Rise of Cryptocurrency ATMs Not Just Another ATM at the...